Skip to content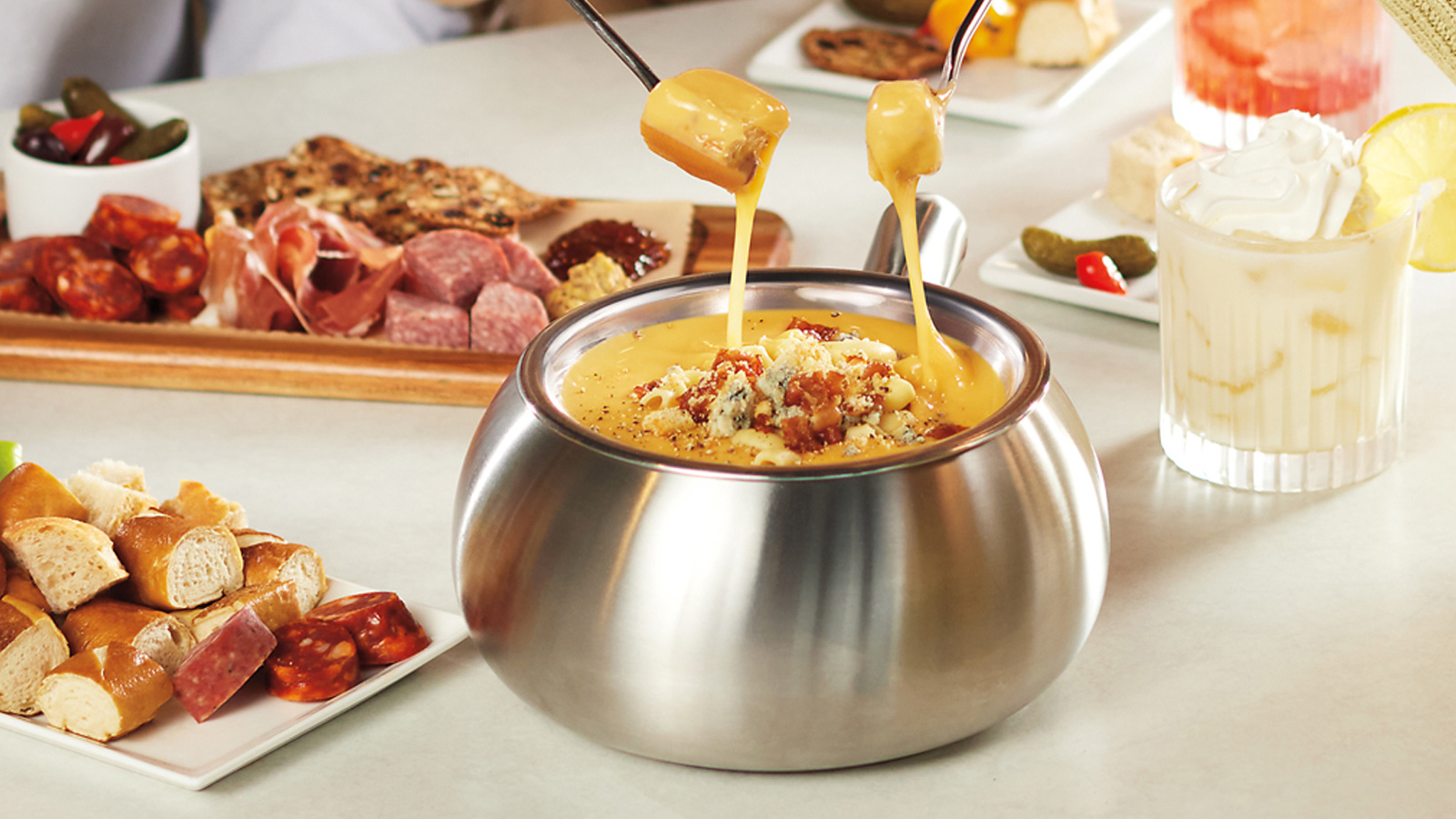 Best Fondue Friends Forever Menu
Celebrate friendship with your BFFFs!
Every Wednesday!
Grab your besties and celebrate friendship with our Best Fondue Friends Forever menu! Enjoy cheese fondue with special BFFF Dippers including prosciutto, summer sausage along with the classic dippers you love.
Enjoy a fresh salad of your choice too, then finish your meal with chocolate fondue and another round of extra-special BFFF Dippers including macarons, créme puffs and more!
4 Courses: $44.95 per person.
3 Courses: $34.95 per person. Includes Cheese Fondue, Salad and Chocolate Fondue.
A 4% surcharge will be added to all Guest checks to help cover increasing costs and in our support of the recent increases to minimum wage and benefits for our dedicated Team Members.
Because guest and team member safety is of utmost importance to us, reservations are highly recommended to adhere to local capacity limits. Reserve your spot today. Minimum purchase of two required for 3- and 4-course options. Not valid with any other offer or on holidays.
Cheese Fondue
Choose any cheese fondue to share, one per cooktop.
Served with our BFFF Dippers: Prosciutto, Summer Sausage, French Baguette, Pretzel Bread, Honey Wheat Bread, and seasonal veggies and fruit. (484 cal) Gluten-free dipper plate available upon request.
Salad
Choose one salad per person.
Entrée
Served with seasonal veggies. (117-132 cal)
Fondue Cooking Styles
Prepare your BFFF entrée with one of our cooking styles, one per cooktop.
Chocolate Fondue
Served with a variety of sweet treats and fresh fruits. (489-504 cal) Gluten-free dippers available upon request.
Served with our BFFF Dippers: Macarons, Crème Puffs, Brownies, Blondies, Rice Krispies Treats®, Pound Cake, Oreo®-Dusted Marshmallows, Fresh Strawberries, Banana and Pineapple. 512 cal per serving. Gluten-free dipper plate available upon request.
Beverages
*OUR FONDUE-STYLE SERVICE MAY RESULT IN THE UNDERCOOKING OF CERTAIN INGREDIENTS. THESE RAW ITEMS ARE PROVIDED FOR YOU (CUSTOMER) TO COOK. CONSUMING RAW OR UNDERCOOKED MEATS, POULTRY, SEAFOOD, SHELLFISH, OR EGGS MAY INCREASE YOUR RISK OF FOODBORNE ILLNESS.
Before placing your order, please inform your server if a person in your party has a food allergy.
Please inform your server if you are gluten-free when ordering. This menu and the information on it is provided by The Melting Pot, in cooperation with the Gluten Intolerance Group (GIG), as a service to our guests. The Melting Pot and GIG assume no responsibility for its use and the information which has not been verified by The Melting Pot.
Our canola oil is cholesterol free and contains 0g of trans fat.
Guests are encouraged, to their own satisfaction, to consider this information in light of their individual requirements and needs.
2,000 calories a day is used for general nutrition advice, but calorie needs vary. Additional nutrition information available upon request.
Updated 1/2020.